October 06, 2015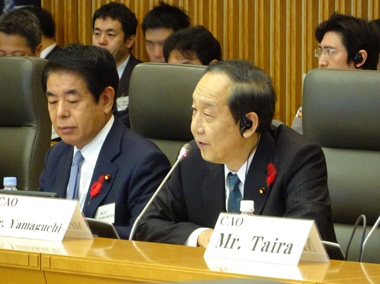 Co-chair Minister Yamaguchi
(At left: Minister of Education, Culture, Sports, Science and Technology Shimomura)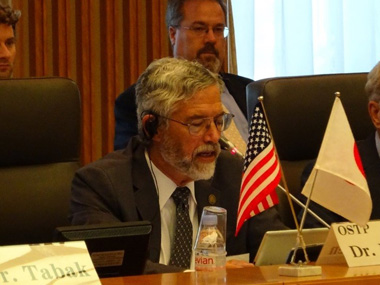 U.S. Co-chair: Assistant to the President for Science and
Technology and Director or the Office of
Science and Technology Policy Holdren
---
On October 6, 2015, Minister of State for Science and Technology Policy Yamaguchi and Minister of Education, Culture, Sports, Science and Technology Shimomura served as co-chairs at the 13th Japan-U.S. Joint High-Level Committee on Science and Technology Cooperation held in Tokyo.
The Committee included an explanation from Japan on the status of formulating the 5th Science and Technology Basic Plan, and a report from U.S. Co-chair and Assistant to the President for Science and Technology Holdren on innovation strategy trends under the Obama Administration. The representatives of both countries discussed initiatives in the fields of medical research, data science, energy and high performance computing. Further, the participants engaged in a high-level exchange of opinions with science and technology policy-makers, after which the parties confirmed plans for future strengthening of bilateral cooperation.
To close the committee, Minister Yamaguchi stated that Japan-U.S. cooperation had reached a new stage, and that he expected cooperation between both countries in the fields of science and technology would further expand in future.