October 20-22, 2015


Minister Shimajiri chairing a session at the meeting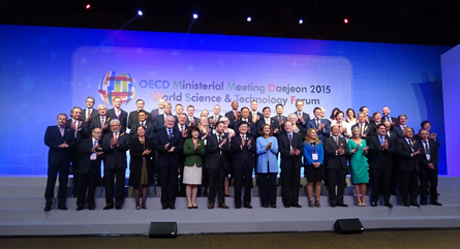 Group Photograph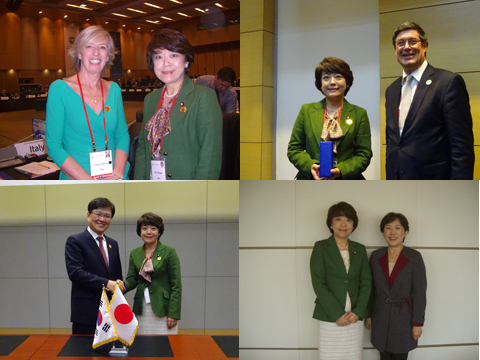 Minister Giannini (Italy) , State Secretary Dell-Ambrogio (Switzerland)
Minister Choi Yanghee (Korea) , Dr. Min Byung-joo (Korea)
---
Minister of State for Science & Technology Policy, Ms. Aiko Shimajiri visited the Republic of Korea to attend the Meeting of the OECD Committee for Scientific and Technological Policy at Ministerial Level in the city of Daejeon, held October 20-22, 2015.

The Meeting of the OECD Committee for Scientific and Technological Policy at Ministerial Level
Minister Shimajiri chaired a session of the meeting discussing approaches to providing scientific advice to governments. The session was held on Wednesday, October 21, and included an open discussion on the need for scientific advice in each country at a ministerial level. The discussion also included related processes and mechanisms.
Minister Shimajiri expressed her anticipation as chairperson of a positive outcome from the discussion towards solving global challenges impossible to overcome for a single nation. She also expressed hopes for a stronger sustainable basis for increasing cooperation and collaboration in various areas by participating countries.
Results of the session are included in the Daejeon Declaration on Science, Technology, and Innovation Policies for the Global and Digital Age, which was adopted on the same day.

Bilateral Talks
Between meeting sessions, Minister Shimajiri invited Italian Minister of Education Stefania Giannini, Associate Director for Science at the White House Dr. Jo Handelsman, and other G7 representatives to the May 15-17, 2016 G7 meeting in Tsukuba, Ibaraki Prefecture. She asked for their attendance and support of the upcoming meeting.
Minister Shimajiri also held talks individually with the following delegates:
Swiss State Secretary for Education, Research and Innovation, Dr. Mauro Dell-Ambrogio, on secrets to a top innovation ranking and future exchange of professionals between Japan and Switzerland.
Korean Minister of Science, ICT and Future Planning Mr. Choi Yanghee, confirming a mutual understanding on strengthening diplomatic ties to further scientific and technical cooperation and on achieving shared objectives in future.
In another meeting in Seoul with Korean National Assembly Member Dr. Min Byung-joo, Minister Shimajiri also discussed the current progress of policy initiatives for scientific and technological innovation and ideas on increasing professional development opportunities for women. A member of the incumbent Saenuri Party, Dr. Byung-joo has a leading role in Korean scientific and technological innovation policy development.