October 23, 2015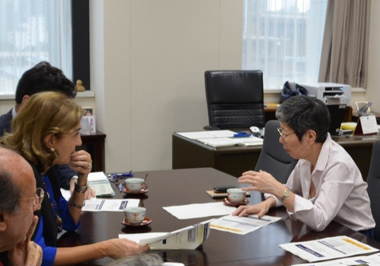 Exchange of opinions
---
On October 23, 2015, Dr. Harayama received a courtesy visit from State Secretary for Research, Development and Innovation Carmen Vela Olmo during her visit to Japan.
As well as touching on the results of the Meeting of the Organization for Economic Co-operation and Development) Committee for Scientific and Technological Policy at Ministerial Level(held October 20-21 in Daejeon, Republic of Korea) which both had attended, Dr. Harayama provided an explanation of Japanese science, technology and innovation policy.
State Secretary Vela expressed the view that Spain should also incorporate a large number of the mechanisms and systems of the Council for Science, Technology and Innovation (including the Executive Office). She was particularly interested in the fluidity of human resources in the Executive Office (gathering of people with diverse backgrounds).
Dr. Harayama also explained how that discussions were underway regarding the policies of the 5th Science and Technology Basic Plan. She also indicated the willingness to communicate the state of Japanese initiatives and share the information through Science and Technology Attachés of the Spanish Embassy in Japan.